○Performance Information 

"
Kiiroi Sakebi
" 
produced by Tom project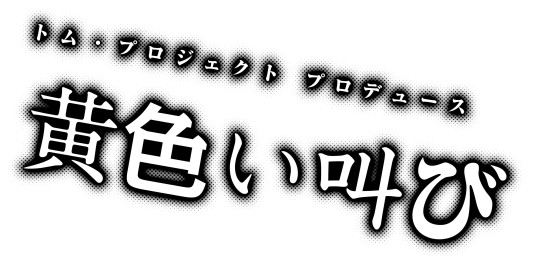 Written and directed by Akihito Nakatsuru


Cast:
斉藤とも子 Tomoko Saito
原田祐輔 Yusuke Harada
山崎大輝 Taiki Yamazaki
中嶋ベン Ben Nakajima
長尾純子 Junko Nagao
太平 Taihei
岡田優 Masaru Okada
伊藤壮太郎 Sotaro Ito
足立英 Suguru Adachi
辻井彰太 Shota Tsujii


○Introduction
Akihito Nakatsuru who wrote and directed this performance is a president of a theatrical company, TRASHMASTERS.
He digs into various problems hidden in contemporary society, continues to publish numerous works using dynamic playwriting and directing that attracts viewers by future-oriented imagination.
This performance was presented in April 2011. The East Japan great earthquake happens during the writing process before the performance started running.
After some struggles, he made a decision to abandon the script he had written up to that point and build a whole new story.
"Kiiroi Sakebi (Yellow Cry)" is based on natural disasters.
Nakatsuru said, "Children in the affected area would draw a picture on the earth if there was no paper, and sing songs if there was no music. They would start playing house even if there was no tool. Even if there was a concern for tomorrow, or there wasn't a home to go back to, people cannot resist touching the art. "I believe that art is to live, and is the best act of regaining humanity."
In the past few years, natural disasters have been continuously occurring all over the world. We must think about the meaning of how people "live" like human beings.
○Synopsis
In a public hall in a rural area.
Members of a young men's association have gathered at the meeting for a festival.
A typhoon is approaching and the rain is getting stronger.
Subject went from the festival to the disaster countermeasures, the meeting got complicated.
Natural disasters and human disasters, urban areas and depopulated areas, various problems emerged.
Eventually, the meeting ended and people disbanded, just then landslides occurred in the vicinity.
Roads were blocked completely and a public hall caught in an isolated state.
And one person was caught in a landslide and was brought to the public hall covered with blood... ...

○Excerpts from dramatic criticism at the premiere of April 2011
In this performance, problems and troubles of those adolescents formed a harmonious whole with the disasters they are facing, and now it makes us think about "What is to live? What is a disaster?"
Natural disasters and human disasters. Urban areas and depopulated areas.
Is there a "disparity of human lives" living there?
The reason why its writer and director Nakatsuru dared to present this performance with this theme at this time is that he wanted us to question ourselves about the truth of "East Japan great earthquake" and its reconstruction, using the depopulated city as a mirror.
His determination was firmly appearing on this performance.
The coherent and tight ensemble made me enjoy the performance 2 and half hours nonstop without tiring me. There is no word to describe this performance but stunning.
- Theater critic the late Mr. Ken Murai
○Schedule・Ticket information
Location: Zenrosai Hall / Space zero
   Zenrosai Hall, 2-12-10 Yoyogi, Shibuya, Tokyo. 151-0053
Date: 2019. March 20th Wed. - March 26th Tue.
March
2019
20
Web

21


Thu


*Holiday

22
Fri

23




Sat

24




Sun

25
Mon
26
Tue
14:00
●

●

●
●
19:00
●
●
●

●
◎The doors will open 30 minutes before the performance starts ◎Preschool children cannot enter
Advance ticket/¥4,000   Day ticket/¥4,500
○Ticket dealer
Tickets Today
03-6228-1062 (Weekdays 10:00-18:00)
e+ (e-plus)
 (Search "Kiiroi Sakebi (Yellow Cry)")
<Notice>
Depending on ticket reservation booth or information operators, we may only be able to speak Japanese.
Please be understanding of this beforehand, and come to the ticket office or the venue on the day.

---
○Staff
Production Design: Kasumi Nakagawa
Lighting Design: Kazuo Miyano
Music Design: Hiroshi Takabatake
Sound Design: Koji Sato, Yuta Senda
Costume Design: Ai Higuchi
Stage Manager: Eiki Ogasa
Promotion Photo: Toshiaki Nozawa
Advertising Art: Kenji Nakatsuka
Producer: Kiyoshi Okada
Produced by TOMPROJECT
---
○About Subtitle Tablets
<Performances with Multi-language Translator System>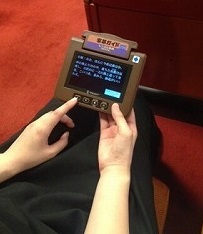 For this performance, subtitle tablets are available to our foreign audience for better understanding. Subtitles of the dialog will appear simultaneously on the tablet.
Charge: Free
(There is a 1,000JPY insurance fee but will be refunded after tablet is returned)
Available language: English
 <Rentals and Reservations of Tablets>
Please request at the lending booth on the day of performance.
For reservations, please directly call the number under the "Contact" section on the "Site/ Ticket Information.